Does it seem like it's getting harder and harder to "advertise" on Instagram? We're battling algorithms, consistency, professional photography, DONUTS, cactus', kittens... the list goes on… 🙄🍩🌵🐱
Basically, anything we post just isn't good enough - or so it feels.

The biggest mistake most people make when they decide to take their business marketing on to Instagram has nothing to do with Instagram and everything to do with if they've done their homework first or not.

3 Ways You Can Level Up Your Instagram Marketing For Your Business
1. Know your community. I'm not talking about your local community - although if that is who follows you - then obviously that will be helpful. Im talking about your online community. The people who like, comment, and pay attention to what you have to say. KNOW THEM WELL!
A trick you can do every day that will take you all of 2 minutes is after you make a post - click to the first 10 people's profiles who like your post and if they're real people (you know what I mean) then leave them a comment or send them a DM to let them know you appreciate their support. Bonus points if you let them know what you like about their account or message.
And in honour of Valentine's Day coming up - I'm thinking this will be quite the nice surprise for someone to have a little extra love in their DM box!

2. Take your own photos. I may be a photographer, who happens to get paid from time to time so this is basically second nature to me now but there is NO excuse for not watching a few how-to YouTube videos, reading thru a few blogs or at the very least - studying an account you love to find out how to take decent photos with your phone.
I'd say majority of us have iPhones or androids now (anyone with a flip phone out there?!) so you have no excuse of not having a camera. Good light, a good main subject (what you're focusing your photo on), and a bit of composition know how (rule of thirds is your friend! Google is your friend!) will take you further than your competition every time.
Don't wait until your business is doing well enough to hire someone to start documenting your brand - do the research - and practice!!! Take a photo of something that helps tell your story - and then take 10 more photos of that thing until you get something good. Throw a filter over it (choose one..only one…) and voila.
You've got content.
Easy peasy right??? 😅😳

Show of hands - who out there struggles with taking photos they can actually be proud of with their iPhone?? Is this something that holds you back when you want to post to Instagram? Keep reading! I have a couple videos for you at the bottom of the page that will help!

I also did a mini tutorial on my Instagram Stories (that I saved to my Photography highlights reel so you can view it any time!) Here are a few examples of simply shifting my body and where I took my photos from to get a different shot of the same subject. It's all about light!!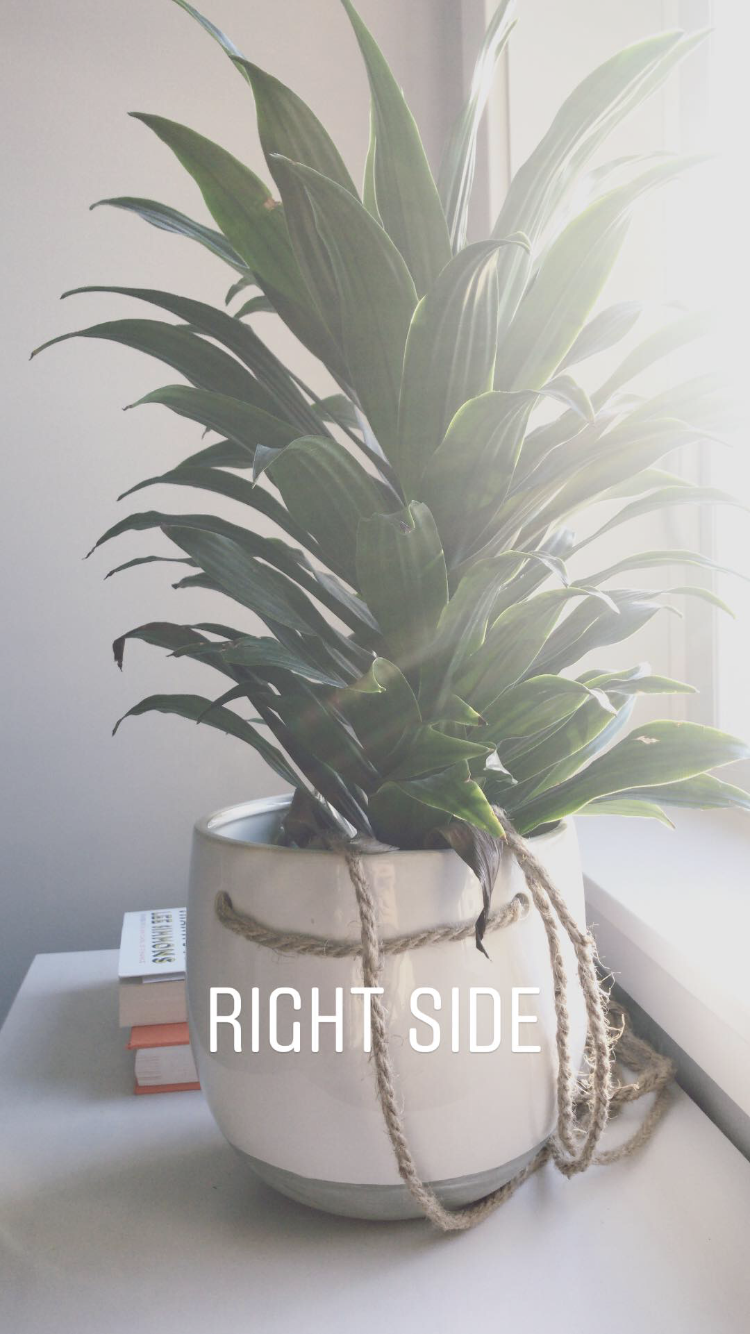 3. Tell a story in your captions that connects you, your community and your images. This part seems tricky - and with practice it definitely gets easier. But the biggest thing to remember when you set out to write some captions for your photos is this:
Your people want to hear what you have to say.

You are not full of yourself because you write from your own experience.

Ask yourself before every post: Is it real, and does it add value?

If you're writing honestly from a positive place - you will 100% connect with people and you will earn their trust.
And when you earn their trust, you earn their respect.
And when they respect you - well, you become their go-to for whatever it is you're selling, or offering.
Want more clients? Get more real people on your side because you care about them - and make it less about what you're selling them in the end.
I can't leave you high and dry without some actionable steps.
Homework time!!
Get out a sheet of blank paper and jot down point form everything you feel your ideal client/customer is. Do not hold back, get really gritty and specific when you answer these:
* What is your clients biggest pain point that you help solve
* Why does your client/customer get up every morning? What is the most important to them?
* What does your client/customer find attractive or interesting about you?
 
On that same piece of paper, jot down 10 things you can photograph in your daily life/business that your client (that you just thought deeply about) would relate to. What commonalities or interests do you share with them?
Ideas could be: Coffee, donuts, nature, baby animals, plants, dirt?! Anything!
 
On the back of that paper - jot down point form the top 3 questions you get asked all the time. Can't think of any? What are the most common things you tend to hear when someone meets you, views your website, views your social media or sees what you have to offer.
Ideas could be:
What do you do?
How do you do that?
How can I do that?
Where did you get that?
Where can I find that? etc

Here are a few great links to help you get inspired to create better content for your Instagram accounts. I am not connected to these videos or the people who made them - I've just picked up great tips from them!
5 Tips to Instantly Up Your Photo Game
Take Better Shots With Your iPhone
I'll leave you with those thoughts for now!
If you want me to give you a little extra help - send your finished homework back to me! I want to see photos of your messy brain storms on your page. Send me a DM on Instagram any time - I would love to connect.
I know once you find your groove - you'll start to feel more in control of your Instagram content and you'll actually be excited to post it!!
Next steps are coming - I can't wait to get into the visual side of things with you! Photography tips, planning your instagram grids + creating a cohesive brand. Coming soon!

xo
L